This just in from It Works Corporate
For Potential and Current It Works Distributors
May 1, 2015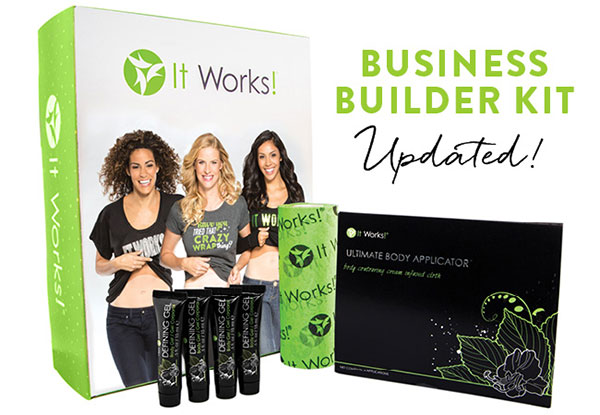 EXCITING NEWS FROM IT WORKS!
Starting May 1, we're taking the Business Builder Kit to a #WholeNothaLevel!This ultimate business building tool has been redesigned, repackaged, and reimagined. It's been translated into 9 different languages.
Best of all, it's the same price of just $99, but with so much more! Here's what's included:
Product
Half size Fab Wrap (1)

Defining Gel 1/2 oz. Sample (4 pack)

Ultimate Body Applicator (4 pack)

#IW Adventure Bracelet (1)
Steps to Success Tools
Steps to Success Flyer

Blitz cards (25 pack)

Party Pads (2) (Spanish kits in the U.S. will have the Party Pad Presentation online only)

10% off coupon on It Works! Blitz cards (customizable)
Business Tools
Product Catalogs (4)

Blitz cards (25 pack)

1st Month eSuite and replicated website free
This is everything your newest Team Members need to get off to a fast start and achieve their Steps to Success! But wait, there's more!We've just increased the BV on Greens Chew! Starting today, instead of 10 BV, you get 15 BV with every purchase!
We've also taken our European markets to a Whole 'Notha Level with:
Pricing in five currencies: Euro, Pounds Sterling, Swedish Krona, Danish and Norwegian Krone.

New and improved European Marketing Materials, a new website, new Business Builder Kit, and even eSuite translated into 9 languages!
We also couldn't be happier to see Europe Take It All Off! Yes, you heard that correctly. Exfoliating Peel is now available in Europe! No matter which side of the ocean you're on, there's never been a more exciting time to be a new Distributor with It Works! #StartFAST!Your It Works! Corporate Team